Let's Put Some Light on Their Differences
The 21st Century is a great time to live in, especially as motorists. No blokes riding a horse-drawn carriage in the middle of the night with the sole help of a lantern candle-light brass lantern. Could you imagine driving your car without headlights? Well, consider that the first cars didn't even have them. Headlights became commonplace in cars only in the 1920s. Luckily for us, things have come a long way since that time. Now we don't even have to think about switching on our car headlights. Most of us get our car keys, turn the engine on and forget about the existence of headlights until it's too late and we need to find a replacement last minute.  From gas burning lamps in the 1880s to laser beams today, headlights have undergone a massive transformation to the point in which now it's even too difficult to pick the best headlight for your needs. There is a confusing array of beams, each one with distinct advantages and debatable disadvantages. Let us shed some light on halogen bulb, HID kit, LED headlight bulb, and laser headlights and how each one of them differs from the systems they supersede.
Halogen Bulb VS HID Kit VS LED Headlight Bulb VS LASER Headlight
| | | | | |
| --- | --- | --- | --- | --- |
| SPEC | Halogen | HID | LED | Laser |
| Power | 55W | 35W | 30W | 15w |
| Lumen | 1200LM | 3000LM | 3000LM | 12000LM |
| Current | 4.2A | 3.2A | 2.7A | 1.3A |
| Start-UP | 1S | 5S | 0.1S | 0.001S |
| Lighting distance | 100 Meters | 300 Meters | 300 Meters | 600 Meters |
| Lifespan | 500Hrs | 3000Hrs | 30000Hrs | 50000Hrs |
| Advantage | Cost-effective, plug and play, standard bulb design, standard beam pattern | High brightness, Longer lighting distance, more color choice | energy saving, electricity saving,Longer lifespan, | Highest brightness, longest lighting distance, energy efficient, |
| Disadvantage | Too much heat, Energy wasting, Short lifespan,low brightness | higher cost than halogen, glare light,canbus problem in some cars | No standard yet in the market,need fan for cooling,canbus problem in some cars | extremely expensive, not universal, generates heat. |
Technology changing the automotive lighting industry
From the chart here above, we can see that technology is changing the automotive lighting industry. From 55W halogen bulbs to 15W laser headlights, the options are becoming more energy saving. From 1200LM halogen bulbs to 12000LM laser headlights, technology is making light more efficient. From the 100-meters lighting distance of halogen bulbs to the 600-meters of laser headlights, light makes night driving much safer. From the 500-hours short lifespan of halogen bulbs to the 50000-hours lifespan of laser headlights, we can count on much more durable light alternatives. When dozens of high-quality lighting options for your car, choosing the right headlight has never been more challenging. But we're here to help.
 
We will cover everything you need to know before you buy your next pair of car headlights, including price, power, light temperature, and more. Use this advice to make sure you better understand the differences between halogen, HID, LED, and laser headlights. Our goal is to help you to get the very best type for your needs and budget.
HALOGEN HEADLIGHTS
Tungsten-Halogen bulbs - commonly known as halogen bulbs – are currently the most popular type of headlights in the automotive world and it is estimated they are installed in as much as 80% of all cars. And that's for more than a reason. They are relatively cheap to replace and can last for a decent period. A halogen light has a lifetime of around 1000 hours under normal conditions. Replacing one or both of them takes no skin off your back as the replacement costs are usually much lower compared to other types of headlights. On average, you might have to pay around 15$ and up to 30$ for a decent set.

HID HEADLIGHTS
HID stands for high-intensity discharge headlamps, which are also called xenon headlights. They first appeared on the BMW 7 Series in 1991 and became popular in the early 2000s. Since then, they have been gradually adopted by an increasing number of car manufacturers. HIDs produce a brighter light than halogen bulbs with much less heat. The brightness of the blue-white light they emit is so intense that they have been known for blinding oncoming drivers on the roadways. The occurrence of this phenomenon is mainly linked to improper use or set-up process of HID lights, which require specific assemblies to ensure that the light source is focused in the correct place. Otherwise, the risk of dazzling other drivers is just around the corner.

LED HEADLIGHTS
Assuming you have been keeping up with the aftermarket trends, you probably have already heard something about LEDs and what makes these beams one of the most promising types of headlights. LEDs are light-emitting diodes that are bright, need very little energy to illuminate, and last an extremely long time. Some bulb makers claim a life of up to 30000 or even 50000 hours for their LEDs. With their impressive output of up to 3000 lumens, it's no wonder why they are considered one of the most important innovations in headlight technology.
LASER HEADLIGHTS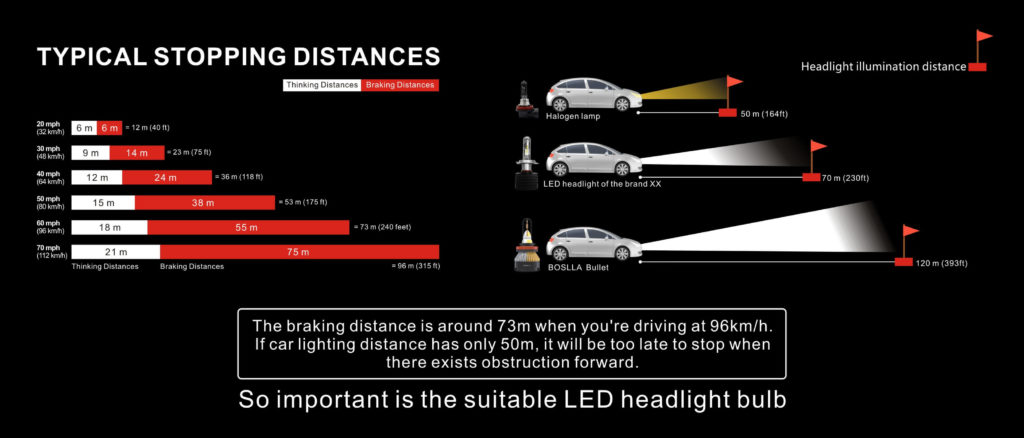 Despite the name, laser lights are not part of a lightsaber or other weapons worth the plot of a top sci-fi movie. They are a new entry in the headlight market, and for now they can only be found on a few upper-end cars. They were first presented to all light enthusiasts in 2017 when Audi launched its fancy "Matrix Laser" technology at the Detroit Auto Show. Since then, they have also been used in BMW cars, especially the BMW i8. While laser headlights offer the best illuminating power among all the options we have just mentioned, they are still not entirely legal, especially in the US. What we already know for sure is that if and when new regulations will allow the use of laser lights on cars, they will still be costly. The ones you can find on the BMW i8, for example, cost over 10000$. Imagine having to change both of them on your car because they are even slightly damaged. It's a cost that not all of us can afford that often. ConclusionsThere is not such a thing as the perfect headlight to rule 'em all. It all depends on your needs and your budget. But if you are asking for our opinion – and even if you don't care, just let us say it anyways – we strongly believe in the potential of LED lights over all the other types of headlights we have just mentioned. If you're the type of person who drives and travels by car a great deal, there's no way LEDs are not one of the best investments you will ever make. Let's imagine that you spend several hours each week driving between 6 pm and 6 am. Halogens aren't nearly as helpful as LEDs during nighttime driving. Relying only on halogens for your night rides means that, yes, you are saving some money, but you are also putting your safety at risk. That's why headlight manufacturers have gone the extra mile to create LED headlight bulb able to protect us even in the most challenging driving conditions. Take for example the Boslla Bullet LED headlight bulb, which works flawlessly in sunny, snowy, rainy, foggy weather, and even in emergencies. What's so special about this headlight, you might be asking. Or if you are not, well, keep reading. We can ensure that it's worth your time and attention.
Boslla Bullet – Four-color LED Headlight Bulb
The 
Boslla Bullet
 is the world's first four-color car LED headlight bulb.Its with white color,warm white color,yellow color and warning flashing. You can find more info about this product not only on the website and on the Kickstarter page, but even on major media outlets, such as Digital Trends, Yahoo!, Digital Journal, MarketWatch, BusinessWire and many more. The idea behind this four-color LED headlight was generated by some quite alarming data. Every year more than 1.25 million people die as a result of a road traffic crash. Between 20 and 50 million people suffer non-fatal injuries, but their lives are never the same after such incidents. Most car crashes can be traced back to poor weather conditions, like rain, fog, snow, or dim automotive lighting.
It is effortless to switch from one color mode to the other, especially if you find yourself in a situation of emergency. This is a revolutionary innovation in the car headlight industry since most traditional headlights – especially halogen bulbs,hid kit,other brand led headlight bulb or laser headlight – only have one single color you can choose. The
Boslla Bullet
has an initial power of 30 Watts and a durable power of 27 Watts. This means that Boslla offers a medium-high lighting power much brighter than 70% of the other bulbs available on the market. If you are not a headlight geek, don't worry. It takes less than 10 minutes to install them on your car, and you can keep using them under all possible conditions. Their led headlight bulbs can resist mud, water (IP67-rate waterproof), dust, sandstorm, ice, high temperatures. You name it. And they're even much cheaper than you might expect.   So, what are you waiting for? Check the 
Boslla official website
 and try out their headlights.