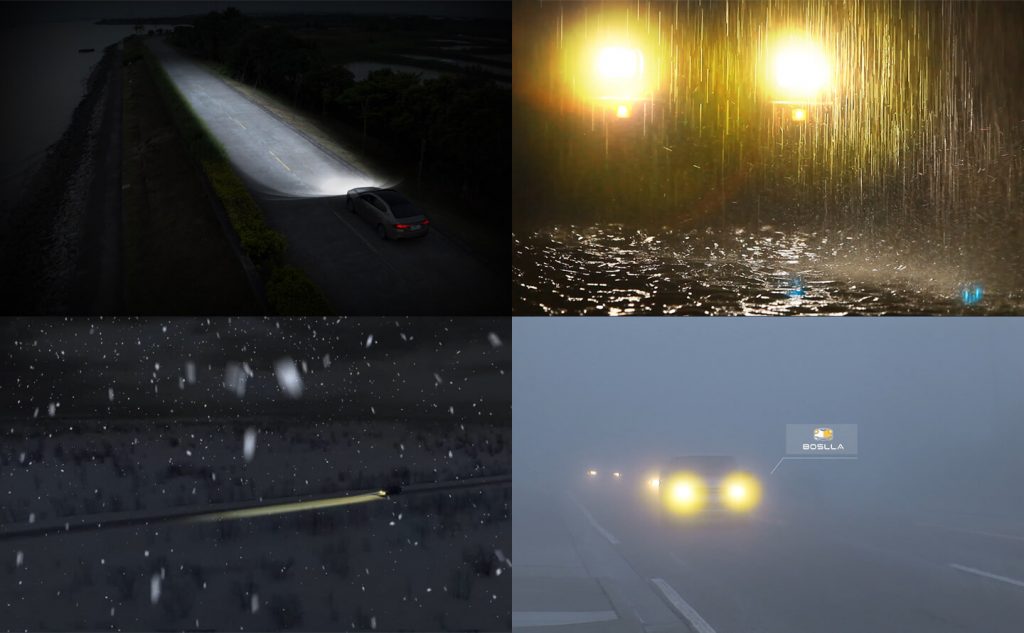 Boslla All Weather Fit LED Headlight Bulb
Promote driving visibility, 6500K clear white beam pattern cares more about all driver's safety.
Avoid white lighting scattering in snowy weather, 4300K neutral white light bring your a more comfortable driving experience.
Enhance the penetration of car headlights with 3000K yellow light in foggy and rainy weathers.
Boslla in emergency situation
Used for off-road, Jungle adventure, Geographic survey.
Strobe with yellow light 8 times every 5 seconds Under warning flashing mode.
Boslla can be the savior in case while in emergency situations.
Revolutionary innovation of headlight bulb
The world's first 4-colors LED headlight, meeting with good or bad weather in all conditions.
Take place of the dim light of original headlight bulb.
Give you more choice on single color light even on BMW cars.
Easily Switch 4 Modes
6500K(Sunny), 4300K(Snowy), 3000K(Rainy and Foggy), Warning Flashing (SOS Rescue)
Switch to next mode easily without delays
No need any hardware modification
Atomic high temperature crystal technology ensures the synchronization of each bulb
Brighten Your Way In Freezing World
Designed to resist an extremely cold environment < -158 ℉.
Instant on even when frozen in the ice.
Strong enough to cross Antarctic.
Stay super brightness and color temperature.
Boslla in hot temperature
Work well after 100-hours heatproof in 194 ℉ oven.
Built in intelligent temperature control, maximize LED chip's efficiency.
Excellent Ingress Protection
Achieve IP67 waterproof equation process certification
Working normally soaking in the water with power on for over 48 hours, even in the mud.
Available for All Cars
Apply to all vehicles such as Sedan, Pickup, SUV, Jeep, Mini, motor, even 4 wheel beach vehicle, etc.
Easy to install in any vehicle
…… and more!