H3 LED Fog Light Bulb – All Weather Fit
Real Shots From Real Customers
When it comes to H3 fog lights, which color is best – yellow or white?
The white light enlightens the street better due to its brightness than the yellow one. But white light against the snow or fog can be glaring to the eyes and it can make you tired soon.
Yellow light was less dazzling to other drivers and also cuts through rain, snow, and fog better than white light. But it can also be harder to see with yellow lights in clear conditions.
So, which is better? The best is to have both white and yellow in one H3 bulb!
Boslla B4 H3 LED bulbs featured 6500k white, 4300k white-yellow and 3000k 3 colors, allowing you to change the color by switching on-off-on to fit all the road conditions.
The 6500K cool white lights offer clear vision at night, and the amber yellow lights at 4300k, 3000K with the best penetrating force, offer a clear view on rainy days, fog, or snow!
If you are driving in foggy, rainy conditions daily or perhaps you live somewhere with heavy winters, these white & yellow H3 LED bulbs are a must-buy.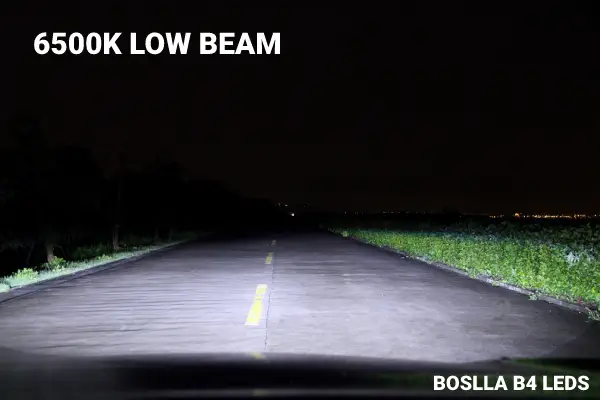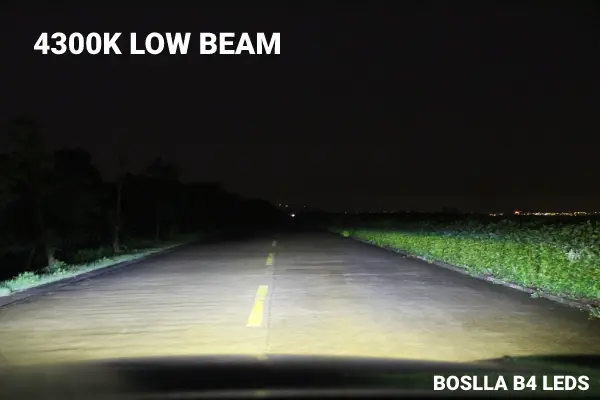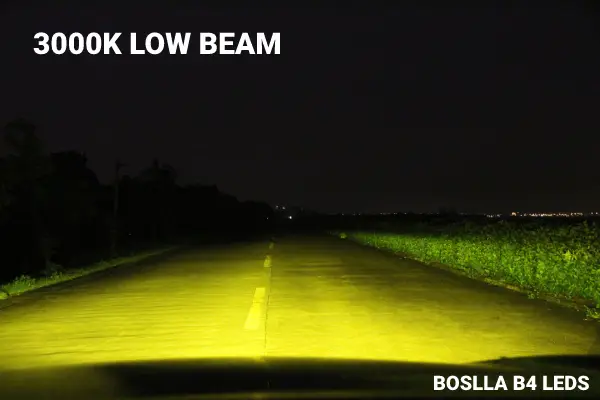 H3 LED Fog Light Bulb Benefits
3 colors all weather fit, improve both the look and function of your cars.
7200 lumen brightness, make your fog lights 300% brighter than stock halogen.
1:1 design, super focused beam pattern, no dark spots, no glare, do not blind oncoming traffic.
360 degrees adjustable base ring, 100% plug-and-play installation, works with 98% of vehicles.
6063 aviation aluminum lamp body, 8500RPM cooling fan, IP67 waterproof, lifespan up to 50,000 hours.
1.5MM double-side purple copper heat conduction, intelligent temperature control system, for more stable performance.
How To Switch Colors
Switch OFF and ON within 5s to change mode
Quick switch 3 times within 1.2s to reset mode
Auto reset to white light after 5s Headlights/Fog Lights OFF
All Weather Fit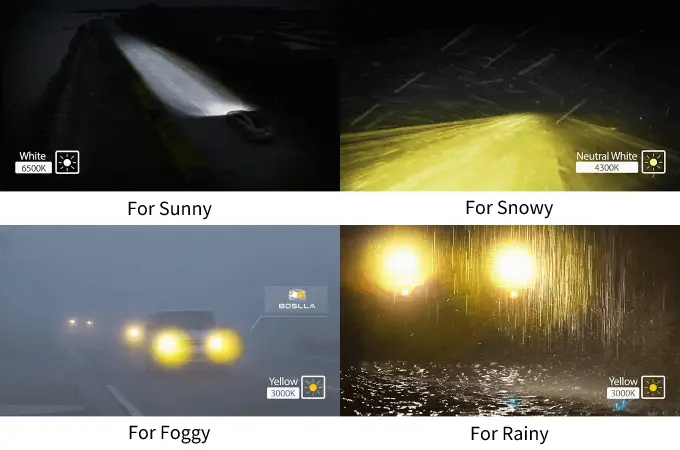 6500k White, to improve nighttime vision.
4300K White-Yellow, for optimal visibility.
3000K Yellow, see better in heavy rain and fog.
H3 LED Fog Light Bulb Specs
Color Temperature: 6500K/4300K/3000K
Lumen: 7200LM/Set(3600LM/Bulb)
Wattage: 60W/Set(30W/Bulb)
Lifespan: Up to 50, 000 Hours
Voltage: DC 9-16V
Our LED Fog Lights Kit Includes
2 x Advanced Technology Premium H3 LED Bulbs
2 x Premium DC Digital LED Drives
Easy-to-Use Installation Manual
1-Year Warranty – Free Replacements
Hassle-Free 30-Day Easy Return
Warning Canceller / Anti-Flicker
[Important Note]
Please note that some vehicles (such as the 2007+ Dodge, Chrysler, Jeep, GMC, BMW, Mercedes-Bens and more) may require a set of canbus adapters to be installed.
For American vehicles, we advise the Resistor decoder, while for European vehicles, the Capacitor decoder.
To confirm if need a DECODER or not, just remove the original headlight bulb and check if the dashboard show BULB ERROR or not. If your headlights share the same bulb with DRL, there may be a flickering issue, please also try to install CANBUS adapters.